Roundup 5 Litres Round Up Weed Killer XL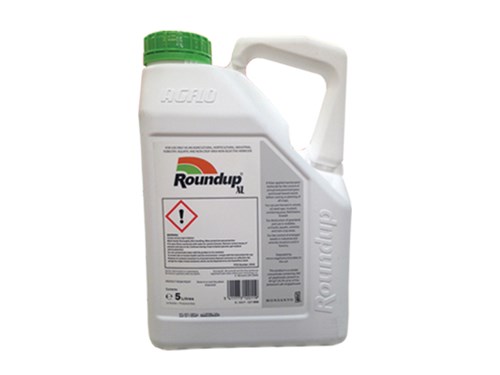 €

35.00
inc VAT

(€28.93 exc.vat)
List: €63.93
You save €28.93
Roundup 5 Litres Round Up Weed Killer XL
Description
Video
Delivery
Returns
Reviews
Roundup XL (Mix Water :Roundup) is of 40:1, however you can reduce the water rate to 30:1 for severely infested areas.
Systemic weedkillers kill from the inside out.
This systemic weedkiller goes in through foliage and moves right down to the root tips to kill off the whole plant. Kills even the toughest weeds and leaves no harmful residues to allow for replanting. Children and pets need not be excluded from treated areas. Kills weeds, including tough, deep rooted and woody weeds. Kills brambles, thistles and nettles anywhere that they grow.
COVID-19:
Due to the current situation (Covid-19) some products may take a day or two longer than normal to deliver due to carrier congestion.
Normal Delivery is expected to be within 2-3 working days, to help our customer service team manage the workload please do not chase your order unless 4-5 working days have passed.
Delivery Information
Many of our products are available on a 1-2 day delivery but as we offer over 44,000 products we do ask to allow 4-5 working days for delivery. If you need something delivered urgently, please call us on 01-446692 and we'll do what we can to help.
How much do you charge for delivery?
Delivery is free for orders delivered within Ireland over €50. For all orders under €50 delivery is €6.99 . For international deliveries, please see below.
*ONLY on orders over €50 (Ireland Only)
UK Delivery is €50.00 (Non EU Delivery)
When will I receive my order
We love to deliver orders as quickly as possible, and most items are sent out on a 48hr courier service (2 working days). Some oversized orders can take between 4 and 5 days. If an order is placed before 2pm it is usually dispatched 48hrs. Some bulkier items (especially those delivered on pallets) may take longer to arrive and the carrier will contact you to arrange a suitable delivery date. All orders received after 1:30pm Friday or on Saturday or Sunday will be despatched the following week. Please take into account orders placed at busy holiday times can take a day or two longer, this is out of our control.
Please get in touch with us if you require your item more quickly as we may be able to help.
Do I need to be in when my order arrives?
Due to the value of many items on our site, if the delivery is made by courier someone will need to be in to sign for the item. If you aren't in and delivery is attempted, the courier will leave a card with instructions of how to rearrange delivery or directions to the nearest depot where you can collect your order.
After two attempts to deliver your order and you are not available to sign for the order your goods may be returned to MyDIY.ie were you will be charged for a re-attempt to deliver your order.
What happens if my order is damaged or incomplete?
We take great care in packaging your items, but in the unlikely event that the order is damaged or is incomplete please contact us straight away or within 24 hours and we'll do everything we can to put it right. Shortages an only be rectified if they are reported within 3 days of signing for your order.
International Deliveries
We welcome our international customers and in many instances, we can deliver abroad to Europe & the rest of the world, international delivery charges are based on weight. Please simply contact us for a quote stating the items you wish to buy, we're happy to help!
Unfortunately, we are unable to ship liquid products overseas due to shipping & customs regulations.
Customer Service & Returns
Money Back Guarantee
We want you to be delighted with your purchase. That's why if you aren't happy with it for whatever reason* within 16 days of delivery date, we'll refund or replace it for you (excluding shipping costs).
*as long as it has been unused and in original condition and packaging.
No quibble returns
If you need to return something for any reason, whether it's not the right tool for the job or if it's faulty. Please get in touch with us to organise a return. We strive to make this as simple and easy as possible.
If unwanted, products must unopened, be in the original condition and box you received them in.
Simply return the product using your chosen method, or logon to www.returnmyshopping.ie.
Once we receive your item back at the warehouse, we'll refund you (excluding shipping costs) within 72 hours once the item is un used and in a sellable condistion. You can use www.returnmyshopping.ie
Please note no returns will be excepted withour a valid returns number from us that is clearly marked on the ourside of the packaged item been returned.

Excellent service from an Irish supplier

great service, hassle free.

Product was delivered very promptly. I also found the price to be the best I have found anywhere. Would definitely shop here again.

Extremely good product. My online experience was very straightforward. Fantastic service, so efficient.

Great service and productd

exactly as described. checkout effecient and delivery was prompt

All good, great guys to deal with! Yes, great website, found everything I needed!

Can not fault this website So easy to use

great service great value speedy delivery

All good worked very well on the weeds fast delivery.

excellent and prompt service. will shop again.

Excellent, Keep up the high standard

Service was excellent. Very friendly and efficient. Wishing you continued success. Delivery made on due date. John Doody We will recommend your business very highly.

Stock items which are fast moving to avoid customer dissatisfaction. Excellant service

Yes, exactly what I ordered

Excellent. Fantastic website & company will be using again

Haven't used this weed killer yet but it's reputation precedes it so that I have no doubt it will perform well. Ordering online was straightforward, delivery was timely (despite the Covid 19 lockdown) and the price compared favourably with what I would have had to pay elsewhere.

perfect on time delivery. very professional service , not sure it could be improved upon , keep up the good work

Great product and a great price.

Round Up does what is says on the tin.

Very simple fast transaction. Very happy with quick delivery 👍

Exceptionally speedy delivery and everything correct.

Excellent service , fast and efficient.

Really good. Great experience. Very fast delivery.

Very straight forward and fast. keep up the good work

Super price and brilliant service , highly recommend

Excellent service and product

Good communication and quick service. Order arrived with no issues.

I still haven't recieved this item. Update from Mydiy. Order was delivered.

I am very happy with your service

Very Fast delivery service

Did the job fast delivery

Great product, good price, delivered on time.

Great value . Arrived super quick

A good buy just what I wanted

Items delivered in very short time, good price and free gift included - will definitely shop again

Once again fantastic picing and delivery on time. Round up weedkiller 50% cheaper than all main stockists such as B&Q and Woodies. Simple as simple can be.

Excellent service. found exactly what I was looking for.

The ordering process was very quick, no need to even enter an account when using PayPal, goods arrived quickly, good price.

Very simple and easy to order. and good service too.

Best weedkiller on the market , safe to use around children and animals , ideal for commercial use ie schools. Great range of products.

Good speedy service. I'm happy

easy to order and easy to find everything that I wanted, highly recommend and I will definitely use this Company again. My delivery came well packaged.

Every thing went smoothly from picking my order to delivery. I got free delivery what else could you ask for. Plus a few extra gifts thrown in free happy days Very professional I would recommend MyDIY.ie

Very happy with product and service from My DIY.ie.

Excellent service with very fast delivery. Great value also.

Roundup is Roundup; it just gets the job done. The concentration in XL helps in getting good coverage for the cost. Excellent website. Easy to navigate and checkout. No hesitation in recommending to friends and family.

Great product & great value at mydiy.ie Great selection of products, why go anywhere else

Love these guys, amazing prices and astounding super quick delivery, thanks to everyone involved 🖒from your door to mine

This is a great product as it gets rid of weeds in a few days.so handy to use . great value as the 5 liters will last a year. Everything was great from when I ordered to getting my delivery.

Great service great price , super quick delivery. What's not to love

good value and service would recommend

5 star site, website easy to look at, ordered Wednesday night received my order Friday morning. Plus got a 800 page catalogue, will be going here from now on

Great service great price 👍

Excellent value. Fast delivery. Highly recommend mydiy.

Speedy delivery and very competitive pricing. No complaints whatsoever!

very good service thanks Eugene mccabe

Good auld tack to be fair...... Langer it down and watch stuff just wither and die

Very good services and cheep, quick delivery

great service and prompt delivery

Super service I ordered it on Thursday and it was delivered Friday, what more could I ask for, the price was the best I found , thank you very much

Great seller. Quick delivery.

very impressed arrived in 48hrs by an post so no couriers and excuses too deal with. way too do it. be using again thanks

Very good hope to shop with u again

Recieved on time and great value as always, great sevice

Product arrived super quick exactly what was ordered. Very easy checkout very impressed with service

Great Service, great people to deal with. Very fast delivery. Easy website to use. Easy check out. Compare to other DIY sites that I have used for years, prices are far more competitive. No longer using those sites. Have passed www.mydiy.ie to 6 buddies. All have made orders since. Well done all. Keep this standard up and youll be in business for years.

Perfect service would highly recommend it

REALLY PLEASED WITH PRODUCT VERY GOOD VALUE