DEWALT DCD796 XR Brushless Hammer Drill 18V Bare Unit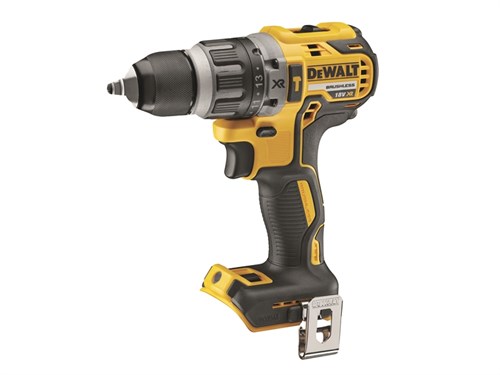 €

122.99
inc VAT

(€99.99 exc.vat)
List: €224.11
You save €101.12
DEWALT DCD796 XR Brushless Hammer Drill 18V Bare Unit
Description
WEEE Recycling
Delivery
Returns
Reviews
DCD796N: Bare Unit
The DEWALT DCD796 XR Brushless Compact Hammer Drill Driver has an ultra compact, lightweight design that makes it perfect for use in confined spaces. The 2 speed all metal transmission provides increased runtime and longer tool life with drill driver and hammer features for multiple applications.
It offers a 15 position adjustable torque control for consistent screwdriving into a variety of materials. Intelligent trigger design allows for total control of application and it has an improved ergonomic design with rubber grip over mould.

DCD796N: Bare Unit
* DCD796D2B is supplied with 2 x 2.0Ah Bluetooth Li-Ion Batteries. These pair with Apple and Android smart devices via the free Tool Connect™ App. This innovation gives DEWALT users the ability to control their compatible DEWALT batteries remotely via a Bluetooth device. From the Tool Connect™ App home screen, users can select an individual battery to view its diagnostics and change settings by tabbing through the pages: Diagnostics, Actions and Alerts.
Specification
Chuck: 13mm Keyless.
No Load Speed: 0-550/0-2,000/Min.
Impact Rate: 0-9,350/34,000/bpm
Torque: 27/70Nm, 15 Settings.
Capacity: Steel: 13mm, Masonry: 13mm, Wood: 40mm.
---
This DEWALT DCD796N XR Brushless Hammer Drill ;is supplied as a bare unit, NO battery or charger supplied.
Technical Specs
Chuck: 13mm Keyless.
No Load Speed: 0-550/0-2,000/Min.
Impact Rate: 0-9,350/34,000/bpm
Torque: 27/70Nm, 15 Settings.
Capacity: Steel: 13mm, Masonry: 13mm, Wood: 40mm.
Weight: 1.24kg.
DCD796N: Bare Unit
WEEE Recycling Producer Registration Number:12889
How do I return my old product to be recycled?
You can return your old product to MyDIY. Waste Electrical and Electronic Equipment (WEEE) is taken back free of charge on a one-for-one, like-for-like basis. Waste batteries including rechargeable batteries are taken back free of charge. You are not obliged to make any purchase when returning old batteries. Each local authority must also accept household WEEE and small batteries free of charge at its recycling facilities. All WEEE and waste batteries must be recycled and should not be placed in any of your household wheelie bins. Make sure you always recycle all your old electrical goods and batteries.
What products can I recycle for free?
You can return anything that is electricaly powered or battery powered. Even your old bicycle lamps can be recycled!.
Do you take back used batteries?
Yes we do. The batteries that we accept are AA, AAA, C or D, powertool batterys and also the flat batteries that are found in watches and toys. Unfortunately we do not accept back any Industrial or car batteries.
Do I need to have made a purchase at MyDIY.ie?
No you don't. You can recycle any of the above items at our store in Inchicore Dublin 8, even if you have not made a purchase with us.
Will you collect my old product?
Yes, but we must be notafied within 14 days of purchase date. You can still arrange to have your old appliance recycled free of charge. Simply bring it back to our Inchicore store and we will ensure that it is disposed of in an environmentally friendly manner.
How much will it cost?
There is no charge to return products to any of our warehouses.
Why should I recycle with MyDIY?
We will ensure that your old product is disposed of correctly to reduce the potentially harmful effects caused on the environment and to conserve natural resources. Further information can be found on weeeireland.ie.
EMC (Environmental Management Cost) Included in the purchase price.
Gas discharge lamps, LFLs and CFLs €0.15
LED lamps and luminaires €0.05
Large appliances €5.00
Delivery Information
Many of our products are available on a 1-2 day delivery but as we offer over 44,000 products we do ask to allow 4-5 working days for delivery. If you need something delivered urgently, please call us on 01-446692 and we'll do what we can to help.
How much do you charge for delivery?
Delivery is free for orders delivered within Ireland over €99. For all orders under €99 delivery is €6.99 . For international deliveries, please see below.
*ONLY on orders over €50 (Ireland Only)
UK Delivery is €50.00 (Non EU Delivery)
When will I receive my order
We love to deliver orders as quickly as possible, and most items are sent out on a 48hr courier service (2 working days). Some oversized orders can take between 4 and 5 days. If an order is placed before 2pm it is usually dispatched 48hrs. Some bulkier items (especially those delivered on pallets) may take longer to arrive and the carrier will contact you to arrange a suitable delivery date. All orders received after 1:30pm Friday or on Saturday or Sunday will be despatched the following week. Please take into account orders placed at busy holiday times can take a day or two longer, this is out of our control.
Please get in touch with us if you require your item more quickly as we may be able to help.
Do I need to be in when my order arrives?
Due to the value of many items on our site, if the delivery is made by courier someone will need to be in to sign for the item. If you aren't in and delivery is attempted, the courier will leave a card with instructions of how to rearrange delivery or directions to the nearest depot where you can collect your order.
After two attempts to deliver your order and you are not available to sign for the order your goods may be returned to MyDIY.ie were you will be charged for a re-attempt to deliver your order.
What happens if my order is damaged or incomplete?
We take great care in packaging your items, but in the unlikely event that the order is damaged or is incomplete please contact us straight away or within 24 hours and we'll do everything we can to put it right. Shortages an only be rectified if they are reported within 3 days of signing for your order.
International Deliveries
We welcome our international customers and in many instances, we can deliver abroad to Europe & the rest of the world, international delivery charges are based on weight. Please simply contact us for a quote stating the items you wish to buy, we're happy to help!
Unfortunately, we are unable to ship liquid products overseas due to shipping & customs regulations.
Customer Service & Returns
Money Back Guarantee
We want you to be delighted with your purchase. That's why if you aren't happy with it for whatever reason* within 16 days of delivery date, we'll refund or replace it for you (excluding shipping costs).
*as long as it has been unused and in original condition and packaging.
No quibble returns
If you need to return something for any reason, whether it's not the right tool for the job or if it's faulty. Please get in touch with us to organise a return. We strive to make this as simple and easy as possible.
If unwanted, products must unopened, be in the original condition and box you received them in.
Simply return the product using your chosen method.
Once we receive your item back at the warehouse, we'll refund you (excluding shipping costs) within 72 hours once the item is un used and in a sellable condistion.
Please note no returns will be excepted withour a valid returns number from us that is clearly marked on the ourside of the packaged item been returned.
Great drill for DIY and tougher than DIY jobs. Solid, feels tough, like it'll last forever. Drilled about 200Nr 12mm holes in 2.5mm + 10mm steel already, no bother to it. Price was great. Arrived in Cork 26 hours after ordering. Haven't stopped recommending this crowd to the lads for the price. It's out in the shed now, so I miss it, I'll go out and give it the 2 trigger darts in a minute.